Published on Monday, January 26, 2015 by Kathy McCabe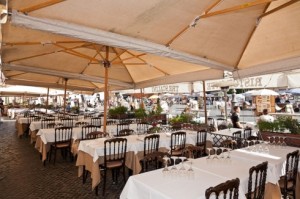 An authentic Italian meal eaten outdoors in a sunny, charming piazza is a picture-perfect dining experience for many tourists who visit Italy, and Rome's outdoor café culture is thriving. Like many European cities, Rome draws visitors from abroad who want to live out a scene from a romantic movie, or perhaps just dine al fresco under the Italian sun. But is it possible that these cinematic café scenes are a nuisance?
That's what Roman officials and restaurant owners are debating. Prompted by police, restaurateurs have recently begun to set up fewer outdoor tables, leaving only those that fit in the space within their allowed perimeter in the piazzas. The reduced number of tables has led to a reduction in wait staff in some cases, in addition to the decrease in patronage due to fewer available tables.
"Are the outdoor tables such a horrible thing?," Claudia Pizzuti, who owns Tre Scalini restaurant in Rome's Piazza Navona told The Wall Street Journal.  "Is this Rome's real problem?"
"We had to do away with the insane invasion of the tables," said Rome Mayor Ignazio Marino. "Do we care about the beauty and architecture of our piazzas, or not?"
The crackdown on city rules has also extended to scooters, which have been banned from major tourist areas such as Piazza di Spagna (home of the Spanish Steps) in an effort to clear the sidewalks of traffic and protect historic buildings from pollution and soot damage. Nonetheless, the scooters are still creeping up into spaces formerly occupied by outdoor restaurant tables.
Marino hasn't gone easy on street vendors, either, saying his quest to clean up Rome is unyielding – independent portrait artists, salespeople hawking souvenirs, sellers of religious items, and other vendors without a license have been subjected to harsher crackdowns. While city officials claim they want to promote independent and up-and-coming artists in Piazza Navona, the space only allows for about 50 licensed artists and has become crowded with double that amount.
In the past, citizens relied on confusing laws, lack of enforcement, and lax fines to dodge city rules. Not so anymore – for example, artists hoping to remain licensed in Piazza Navona must now present their work to a city committee of culture experts and art critics. Older artists who have enjoyed painting on the piazza for decades fear they will be ousted; however, city officials stated that artists will be judged on quality, not age.
"Of course, it's nice to sip a coffee in a sunny square in front of a Baroque church or Renaissance palazzo. But it is just as important to stick to rules," Menino told The Journal. "We want Romans to enjoy the city and for tourists coming from across the globe to make it the trip of their lifetime."
By Kathy McCabe
Ready to travel to Italy? Perillo Tours has been leading group trips throughout Italy since 1945 and ItalyVacations.com can custom design an independent itinerary for your dream Italy vacation!
Taking your first trip to Italy soon? Learn everything you need to know when you get your FREE copy of The First Timer's Guide to Italy by ItalyTravel.com contributor Kathy McCabe