Published on Thursday, February 19, 2015 by Kathy McCabe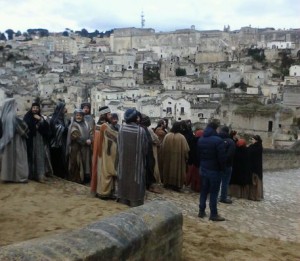 Lovers of cinematic epics, rejoice! 1959's big-budget, big-screen Roman saga, Ben Hur, is being remade, right now, in Italy's southeastern city of Matera.
You remember it as the Charlton Heston vehicle that had the biggest budget ($15.75 million) and biggest sets of any film of that period, and included 10,000 extras, 2,500 horses and 200 camels, among many other over-the-top details. Fortunately, after its Manhattan premier it became the fastest- and highest-grossing film of that era, too, garnering 11 Academy Awards including Best Picture, Best Director and Best Actor. Long considered a great film, in 2004 it was selected for National Film Registry preservation. Whew! No wonder it's being remade.
Matera was specially selected by director Timur Bekmambetov for its ancient cave dwellings, the "Sassi," which offer a remarkable simulacrum to ancient Jerusalem (they were also featured in, for example, Mel Gibson's 2004 movie The Passion of the Christ). But Matera's human population will also have a chance to participate in this film; already, 1,000 locals have been hired to play Roman soldiers alongside the stars, who include Morgan Freeman, Jack Huston (Boardwalk Empire) and Tom Hiddleston (The Avengers, Thor).
Huston will play the title role Judah Ben-Hur, a Jewish nobleman who is sentenced to a life of slavery, and Freeman Ildarin, the sheik who asks Ben-Hur to drive his chariot in a race against the treacherous Messala. According to Deadline: Hollywood, while the "Tale of the Christ" parallel story is mentioned, this version of Ben-Hur plays up the blood feud between Ben-Hur and Messala, who grew up best friends before the Roman Empire took control of Jerusalem.
Filming will continue in Matera at the UNESCO World Heritage Site just until early March, when the production will move to Rome's Cinecitta studios. There will be lots to accomplish on those lots, as release has been scheduled for February 26, 2016.
Matera, interesting, was recently named the European Capital of Culture for 2019.
By Kathy McCabe
Ready to travel to Italy? Perillo Tours has been leading group trips throughout Italy since 1945 and ItalyVacations.com can custom design an independent itinerary for your dream Italy vacation!
Taking your first trip to Italy soon? Learn everything you need to know when you get your FREE copy of The First Timer's Guide to Italy by ItalyTravel.com contributor Kathy McCabe