Published on Monday, March 16, 2015 by Kathy McCabe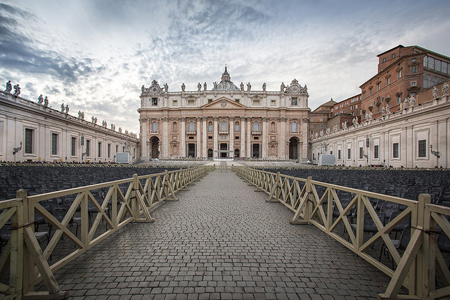 Looking for the perfect excuse to visit Rome and the Vatican in 2016? Pope Francis just gave you one. He has declared 2016 a Holy Year.  The last one was in 2000. The Holy Year, also called a Jubilee, will start this year on December 8th – the Solemnity of the Immaculate Conception – and will close November 20, 2016 with the Solemnity of Our Lord Jesus Christ, King of the Universe.
Francis made the announcement on March 13th during his penitential liturgy in St. Peter's Basilica, saying, "Dear brothers and sisters, I have thought about how the Church can make clear its mission of being a witness of mercy. It's a journey that starts with a spiritual conversion. For this reason I have decided to declare an Extraordinary Jubilee that has the mercy of God at its center. It will be a Holy Year of Mercy."
The biblical passage for the Holy Year's theme is from Luke Chapter 6 verse 36, in which Jesus tells his disciples, "Be merciful as your Father is merciful. I am convinced that the whole Church will be able to find in this Jubilee the joy of rediscovering and making fruitful the mercy of God, with which we are all called to give consolation to every man and every woman of our time," Francis said, and entrusted the Holy Year to Mary, Mother of Mercy.
Each of the four papal basilicas in Rome – St. Peter's Basilica, St. John Lateran, St. Paul Outside the Walls,  St. Mary Major –  has a holy door and all four will be open for the Holy Year.
According to the Catholic News Agency, "The Holy Year is traditionally a year of forgiveness of sins and also the punishment merited by one's sins. It is also a year for reconciliation between enemies, conversion and receiving the Sacrament of Reconciliation." The agency reports that "The Catholic tradition of practicing the Holy Year began with Pope Boniface VIII in 1300, and since 1475 an Ordinary Jubilee has been celebrated every 25 years in order to allow each generation to experience at least one during their lifetime."
By Kathy McCabe
Ready to travel to Italy? Perillo Tours has been leading group trips throughout Italy since 1945 and ItalyVacations.com can custom design an independent itinerary for your dream Italy vacation!
Taking your first trip to Italy soon? Learn everything you need to know when you get your FREE copy of The First Timer's Guide to Italy by ItalyTravel.com contributor Kathy McCabe