Published on Sunday, March 15, 2015 by Steve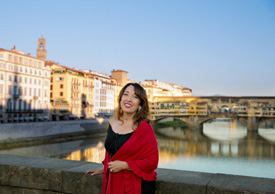 Sorry gentlemen, but this one is for the ladies…
(But here's a tip for you guys, send the woman in your life on this trip to Italy and she might just love you forever!)
Golden Week in Florence with Susan Van Allen
Don't Miss This Once-In-A-Lifetime Trip!
October 25 to November 1, 2015
Join Susan Van Allen, author of 100 Places in Italy Every Woman Should Go, for a Femme-Friendly adventure in Florence: the Cradle of the Renaissance. The week beautifully blends exquisites experiences in this jewel of a city: Standing awestruck before masterpieces and discovering hidden treasures, learning cooking and ceramic painting from the locals, blissing out in the thermal waters of a countryside spa, tasting the best wines and cuisine of Tuscany, and extraordinary shopping—from luxury to outdoor markets.
This is a Gift of La Dolce Vita (the Sweet Life) custom-designed and led by Susan so that women can fully experience Italy's rejuvenating pleasures.
Here's what's included in the Golden Week in Florence – For Women Only:
7 nights at first-class Plaza Hotel Lucchesi in Florence in classic rooms
Transportation by private minibus, including roundtrip transfers to/from Florence airport or train station
Entertaining hosting and guiding by author Susan Van Allen, focusing on Italy's celebration of all things female
Buffet breakfast daily
2 multi-course dinners with wine
1 cooking class followed by lunch
1 ceramics painting class
Guided tours of Santa Maria Novella Basilica and Cloisters, Uffizi Gallery and Vasari Corridor
Entrance fees at Grotta Giusti Spa, including access to thermal pools, steam room, sauna, grotto, and restaurant
Entrance fees to garden, museum and monuments
Travel Journal Writing workshops (optional)
Gratuities for group activities: guides, drivers, and servers at group meals
Price: $3,650 per person, based on double occupancy, land-only
Want to learn more about this fantastic trip or book your spot? Call Natasha, our special coordinator for this trip toll-free at (855) 784-7687 for all of the details!