Published on Monday, April 20, 2015 by Kathy McCabe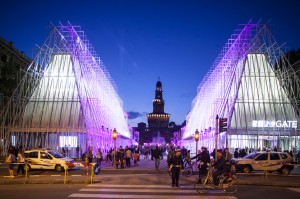 In May, Expo Milano will open its doors and not close them until October. It's been a long journey for the northern Italian city to get ready for this huge international event, and as spring begins, the Milanese are busy putting the final touches on Expo locations, as well as making sure their own monuments, buildings, parks, and institutions are shown in the best light.
As more than one pundit has pointed out over the years since World's Fairs began (morphing into the more modern "Expo" with Montreal's 1976 show), Expos involve both politics and economics. Expo Milano 2015 is, radically, less about progress and more about sustainability. Exhibits will focus on "Feeding the Planet, Energy for Life," and therefore "looks to interpret the collective challenges that mankind is facing," a goal set out by the Bureau International des Expositions (BIE).
Milan, about the same size and population as London or Paris, has been in the process of Expo planning since its announcement as the next site in 2010 (the 2020 Expo will be held in Dubai). Up until May 1, the city will remain in "Pre-Event Phase," with construction, freight, and storage being the primary concerns; on opening, deliveries, warehousing, and activity facilitation will take precedence.
All of this means dealing with customs, a delay in any country, and that means these last weeks of preparation are crucial to a successful Expo. One great window into the construction process is a video from the Salesian Brothers Casa Don Bosco pavilion that shows the wintry weather contractors faced as they put the structure together. A drone-photographed video from the Expo Milano news office gives a wider view of the work involved and where things will be placed, a wonderful way to see the view you'll never get from the ground while visiting. Finally, this Work in Progress gallery will be updated from now until May 1 so that you can see the changes as you plan your trip to the Expo.
By Kathy McCabe
Ready to travel to Italy? Perillo Tours has been leading group trips throughout Italy since 1945 and ItalyVacations.com can custom design an independent itinerary for your dream Italy vacation!
Taking your first trip to Italy soon? Learn everything you need to know when you get your FREE copy of The First Timer's Guide to Italy by ItalyTravel.com contributor Kathy McCabe