Published on Monday, April 6, 2015 by Steve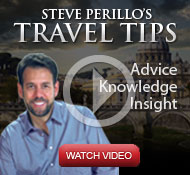 I'm Steve Perillo of Perillo Tours. I have a video series called Steve's Travel Tips to share all the insider Italy travel tips I have learned over a lifetime of travel to Italy.
In this video, I'm talking about the  hottest event in Italy this year-  the Milan Expo – the new version of the World's Fair. Learn about about it by watching my latest Italy Travel Tip! If you're ready to go to Milan after you watch, check out our 4-Day Milan Expo Package.