Published on Wednesday, June 3, 2015 by Kathy McCabe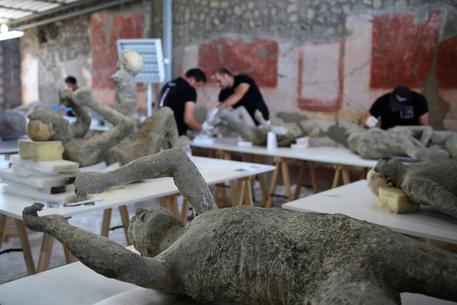 Last week, the exhibit Pompeii and Europe: 1748-1943 opened at the National Archaeological Museum of Naples, in collaboration with the Pompeii archaeological site.  A noteworthy portion of the exhibit will be 86 plaster casts painstakingly restored from the ash-encased human remains recovered from Pompeii in 1863.
The 79 A.D. eruption of Mount Vesuvius resulted in thousands of deaths in Pompeii and nearby Herculaneum. The 18-hour spew of ash buried Pompeii so quickly that residents had no time to flee; most of the preserved remains show how people died. Some were attempting to run, some have faces stretched by sheer terror, some were together in family groups, like the man, woman, and two children discovered in their upperclass dwelling, known as The House of the Golden Bracelet.
Massimo Osanna, archaeological superintendent of Pompeii, Herculaneum, and Stabiae, says that the remains had not been surveyed until recently "out of a sense of ethics" for "real people who should be treated with respect." His words were echoed by those of Stefania Giudice, a conservator from the Museum: "It can be very moving handling these remains when we apply the plaster. Even though it happened 2,000 years ago… It's human archaeology, not just archaeology." The large photo gallery of the restoration work in The Daily Mail shows, not just how careful the restoration work is, but how much respect all of the men and women involved have for the bodies.
Nineteenth-century archaeologists did realize that the ash-covered people would be largely hollow, the soft tissues having decomposed, and they attempted to preserve them by filling the figures with plaster. Unfortunately, that mixture has degraded over time, and when enough of the forms needed to be repaired, archaeologists and curators were amazed to find that entire skeletons were still intact. With the large-scale restoration, not only can a better quality of plaster be used, but technicians can employ up-to-date scanners and computer imaging tools to locate features like clothing and hair without causing further damage.
This work is part of the Grande Progetto Pompei (Great Pompeii Project), in which a team of professionals are studying the genetic and anthropological profiles of the victims. Their findings will be published and eventually made into a documentary.
By Kathy McCabe
Ready to travel to Italy? Perillo Tours has been leading group trips throughout Italy since 1945 and ItalyVacations.com can custom design an independent itinerary for your dream Italy vacation!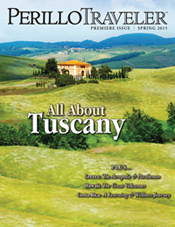 Want to read more about travel? Get your free copy of our new digital magazine, Perillo Traveler!