Published on Monday, June 29, 2015 by Kathy McCabe
Back in 81 AD, the Roman Emperor would have entered the Circus Maximus in grand style, standing in a chariot steered through the newly constructed Arch of Titus. But until recently, the only records of that structure existed in medieval-era documents; stone that wasn't pilfered sank beneath the ground and was lost for eight centuries.
However, this spring archaeologists found 300 fragments of the arch, some as large as a small car, according to The Guardian. Buried 10 feet deep, the fragments were between the Colosseum and the Tiber River.
Authorities in Rome hope to reconstruct the 17-meter-wide, 15-meter-long arch, in a project that would cost at least 1 million euros. They have already starting building a digital image of what the monument may have looked like, including four giant columns resting on plinths to form three archways (two smaller on the sides, one largest in the center).
The arch is one of two that was built in honor of Emperor Titus Flavius Vespasianus. The second, well preserved, stands at the entrance to the Roman Forum, and commemorates that Emperor's victory of the Jews of Judea who revolted against their Roman colonizers in 66 AD and were defeated at Masada in 72 AD. For centuries, Rome's Jewish authorities, sickened the the arch's significance and its famed bas-relief showing a triumphant Titus carrying booty that included a menorah, stated that any Jewish person who walked beneath the Arch would no longer be considered a Jew.
In 1997, the rabbi of Rome finally lifted that ban, in a late-December candlelit ceremony. Then-mayor Francesco Rutelli said: "When many people look at the sculpture under the arch, they only see the misery inflicted upon a conquered race. But look again. I see not a conquered race, but a monument to one of the greatest modern nations on earth. The conquering Romans are a footnote of history, but the Jewish nation continues to thrive, within and outside the state of Israel. That is what the arch represents to me."
The newly found fragments of the Arch of Titus, whether or not the full reconstruction takes place, will lead archaeologists and historians to a better understanding of how a once-mighty empire functioned.
By Kathy McCabe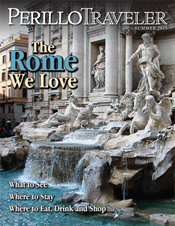 Want to read more about travel? Get your free copy of our new digital magazine, Perillo Traveler!