Published on Monday, June 1, 2015 by Kathy McCabe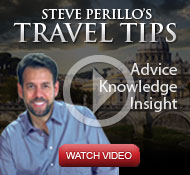 I'm Steve Perillo of Perillo Tours. I have a video series called Steve's Travel Tips to share all the insider Italy travel tips I have learned over a lifetime of travel to Italy.
In this video, I'm talking about a hot topic that travelers are always asking me about!  How to pack for Italy.  Learn the ins and outs of packing for a trip to Italy by watching my latest Italy Travel Tip! Now, you can only pack for Italy if you are actually going to Italy. So book your Italy tour today!