Published on Saturday, June 20, 2015 by Kathy McCabe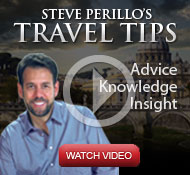 I'm Steve Perillo of Perillo Tours. I have a video series called Steve's Travel Tips to share all the insider Italy travel tips I have learned over a lifetime of travel to Italy.
In this video, I'm giving you advice on how to use cell phones in Italy. Everyone wants to keep in touch when they're in Italy, mostly to tell all the folks at home what a great time they are having on their tour of Italy! But you have to be careful how you use your cell phone so you don't rack up hundreds or even thousands of dollars in roaming charges!