Published on Wednesday, September 23, 2015 by Kathy McCabe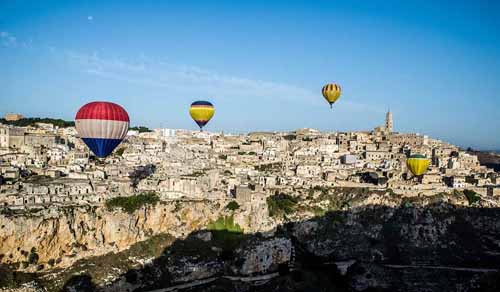 Matera, a UNESCO World Heritage site in the southern Italian region of Basilicata, is gearing up to host 20 crews of European hot air balloons at the third annual Matera Balloon Festival next month. The four-day event, which runs from October 8 to 11 will give adventurous visitors a chance to soar above the rocky landscape by paragliding or hot air ballooning; for the less intrepid, there's plenty to do on the ground, including biking. Visitors can explore Matera's ancient caves, churches, and other world-famous sites, including film sets from Mel Gibson's The Passion of the Christ and Italian director Pier Paolo Pasolini's The Gospel According to St. Matthew.
In an effort to preserve and promote the region's harsh, alien landscape – and to make sure that people of all abilities have the same opportunities to experience this otherworldly city – the festival will concentrate on accessible and sustainable tourism. Slow Food will present cooking demonstrations and flavor laboratories to promote sustainability in food and show off Lucanian cuisine. Creative uses for hot air balloons – such as an "igloo" made from upcycled hot air balloon envelopes – will be on display for visitors and children to enjoy.
Guests with disabilities can follow special paths and activities designed to comfortably involve them in the event, and a "Dinner in the Dark" gala on October 8 will be served by blind waiters from the Italian Union of the Blind of Matera and Bari. This dinner, eaten in darkness, will allow seeing visitors to experience a meal from a vision-impaired person's perspective.
The festival will close on October 11 with a night show of illuminated balloons that flash and glow to a musical beat. The festival also kicks off the Naturarte program, which will encourage locals to enjoy Basilicata's parks, wildlife and outdoor spaces.
Through guided tours, guests can familiarize themselves with the Sassi di Matera, ancient cave dwellings dating back to 7,000 BC that are among the earliest human settlements in present-day Italy, as well as the many other striking buildings carved into the tuff and the cliffsides. Matera's long history has borne immigration and emigration, centuries of transhumance, and ancient rituals influenced by early Italians and Greeks. Because of these rich traditions, the European Union recently named Matera one of two European Capitals of Culture for 2019 (the other is Plovdiv, Bulgaria) and will host a series of cultural events during that year.
By Kathy McCabe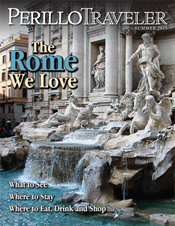 Want to read more about travel? Get your free copy of our new digital magazine, Perillo Traveler!