Published on Friday, March 18, 2016 by Kathy McCabe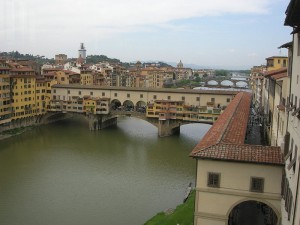 Florence's famous Vasari Corridor, which connects the Palazzo Pitti to the Palazzo Vecchio, is currently only accessible through private tours. However, that may change, says the director of the Uffizi, Eike Schmidt, who hopes to open the corridor to the public.
"My aim is to eliminate privileges and offer the possibility, not the obligation, of passing through the Vasari corridor to Palazzo Pitti on a ticket separate from the one giving access to the Uffizi, and which is in line with normal prices for museum access," Schmidt told Italian news source ANSA.
Currently, tickets for Vasari corridor tours start at 45€ and are very popular, so tours fill up quickly. Schmidt plans to offer a cheaper ticket for purchase in addition to Uffizi admission, so that guests visiting the museum may also choose to visit the Vasari corridor. He believes Florence's most famous family would approve of these changes, as Anna Maria Luisa de' Medici wanted her family's legacy to act "as ornament of the state, for public use and to attract the curiosity of foreigners."
Schmidt isn't concerned about crowding in the corridor, telling The Florentine, "We can relax about that: with the amount of time it takes to walk through the corridor, which is about 1 km long, crowds will never be concentrated in one point the way they are in the Botticelli Room of the Uffizi, where they line up and often linger."
The Vasari corridor was commissioned by Duke Cosimo I de' Medici in 1564 so that he could travel in private from his residence in Palazzo Pitti to the governmental offices in Palazzo Vecchio. Along its  path, the corridor connects to the Ponte Vecchio and the Uffizi, where it houses a collection of self-portraits of artists such as Raphael and Rembrandt. Schmidt also plans to move the portraits from the Vasari corridor into the Uffizi, where they would be better preserved, and to replace them with original frescoes from the corridor's exterior and other artifacts connected to the corridor.
By Kathy McCabe
Want to read more about travel? Get your free copy of our new digital magazine, Perillo Traveler!