Published on Monday, May 30, 2016 by Kathy McCabe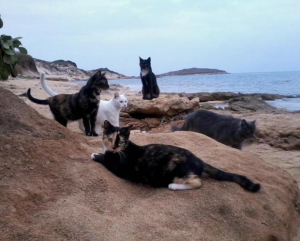 On Sardinia's west coast, a beach that is home to dozens of cats has become a popular tourist destination. Feral cats have lived on the beach in the small fishing village of Su Pallosu for more than a century, when they were brought to the beach by fishermen to control the mice population. Today, about half of the 61 resident feral cats are related to the original cats.
All of the cats are micro-chipped and spayed or neutered, and 40 roam free outdoors while 21 stay in a shelter for health reasons. To care for the cats and to preserve the history and culture of Su Pallosu, Andrea Atzori founded the nonprofit sanctuary I Gatti di Su Pallosu with his wife in 2011, and has since welcomed 11,000 Italian and foreign visitors.
The cats are tame and friendly, and are enthusiastic about being petted and photographed by visitors.
"People are curious because they assume cats hate water, but the Su Pallosu cats grew up on the shore and have no fear of the sea," Atzori told The Local.
Visiting the sanctuary is free, but Su Pallosu welcomes donations to help with the cost of feeding and caring for the cats. The free tours are 30 minutes long, accommodate a maximum of 10 people, and require reservations. Summer hours are 9 a.m. to 12:30 p.m. and 5 to 7:30 p.m. For hours the rest of the year and reservations, email email:amicisupallosu@libero.it or call (39) 340 884 2834
By Kathy McCabe
Want to read more about travel? Get your free copy of our new digital magazine, Perillo Traveler!