Published on Sunday, June 5, 2016 by Kathy McCabe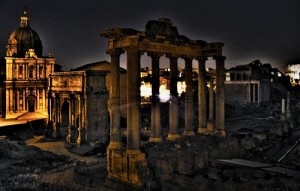 A new feature will allow the public to see the Roman Forum in a new light this summer – literally, as the Forum will be illuminated by LEDs and open for nighttime tours for the first time.
The lights cast white and yellow highlights onto the site's most famous structures, drawing attention to details on parts of the Forum including the via Sacra, the monument's main thoroughfare; the Basilica Aemilia; the Arch of Septimus Severus; the Curia Julia; the Temples of Caesar, Castor and Pollux, and Vesta; the Temple of Antonius and Faustina. The lighting gives the monuments a more uniform look and enhances their architectural beauty. The new LED lighting system was installed this April to commemorate the founding of Rome on April 21, 753 B.C., and cost 400,000€.
"Many lighting projects have been completed through the years, but they have all had a short lifespan because they were too costly and invasive," Francesco Prosperetti, special superintendent for the Colosseum, the National Roman Museum and the archaeological area of Rome, told Italian news source ANSA. "The cost is now sustainable and this should ensure a long-term future. Finally the city is opening itself to the public during non-traditional hours, and this selective and accentuating light on the principal historic moments of the Forum is truly of great beauty."
Guided, 75-minute tours  take groups of up to 25 visitors through the Roman Forum at night, at various times from 8 pm until midnight. The tours run every Friday until Oct. 28 in Italian and English, cost 20€ and must be booked in advance.
Tour times in English: 8:30pm, 9:45pm, 10:15pm, 10:30pm
Tour times in Italian: 8:15pm, 9pm, 9:30pm, 10pm, 10:45pm
Photo by Milo Milosevic, flickr.com
By Kathy McCabe
Want to read more about travel? Get your free copy of our new digital magazine, Perillo Traveler!