Published on Saturday, July 2, 2016 by Kathy McCabe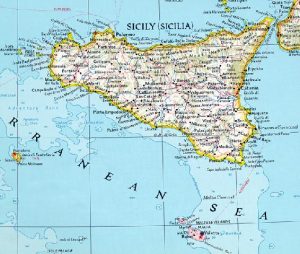 For 2,000 years, Italians have dreamed of connecting Sicily to the mainland, but various proposals to cross the 3.3-kilometer Strait of Messina through the centuries have never gotten off the ground. Now, Italians are hopeful that the newest idea, a cable car system from the Reggio Calabria airport on the mainland to the Sicilian city of Messina, will become reality. According to The Local, the cable car journey from the Reggio Calabria airport to Messina would take less than 30 minutes; currently, the ferry trip between those two points takes about 40 minutes.
The cable car system would comprise three sections over its 37.5-kilometer (23.3-mile) course: 19.5 kilometers (12.1 miles) along the Calabrian coast, 3.3 kilometers (2 miles) over the Strait of Messina, and 13.5 kilometers (8.4 miles) along the Sicilian coast to Messina. Bologna-based architect Massimo Majowiecki designed the plans, according to which the cable cars would be suspended 70 meters over water and 20 meters over land and would connect a total of about 40 Italian cities on Sicily and the mainland.
"What makes the project attractive is that it would be far cheaper than building a bridge," architect Giambattista Ghersi, a member of the project's design team, told The Local.
In 2005, Italy appeared all set to build the world's longest suspension bridge, going so far as to hire a construction company for the project, but the cost of 8.5 billion € halted its progress. In comparison, the cost of the cable car would be 700 million€.
By Kathy McCabe
Want to read more about travel? Get your free copy of our new digital magazine, Perillo Traveler!