Published on Wednesday, August 17, 2016 by Kathy McCabe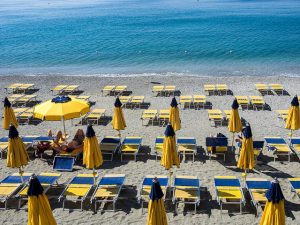 August in Italy primarily means two things: vacation month for Italians all over the country, and hot weather that drives the masses to the coast. Popular vacation spots around the country are crowded, and visitors will go to great lengths to ensure their holiday is perfect. At the beach, it's very common for both vacationing foreigners and Italians to leave their belongings on the sand, near an umbrella, or on a sun lounger overnight – when public beaches are closed – in order to score a picture-perfect beach chair and umbrella.
However, saving a spot on public beaches before the beach opens is unfair to the visitors who follow the rules and wait for the beach to open before setting up. Though discouraged, this practice is very common among both vacationing foreigners and Italians – but with a new crackdown on enforcing beach rules happening all across the country, that may be about to change.
Efforts to stop the decades-old practice have been made before, but now, the Italian Coast Guard is attempting to ban it for good by establishing an initiative it calls Operation Safe Sea and fining tourists 200 euros ($220) for unfairly staking claim to prime beach real estate before the beach opens.
According to La Repubblica, the Tuscan town of Cecina has made it illegal to leave personal property on the beach before 8:30 a.m., while the Coast Guard in another Tuscan city, Livorno, confiscated dozens of beach chairs, umbrellas, towels, and swimsuits. Roseta Capo Spulico, in the south, seized more than 200 beach chairs.
To avoid facing a fine, simply wait until the beach opens – anywhere from 6 a.m. to 8:30 a.m., depending on the beach – to reserve your spot.
Photo by Ajay Suresh, flickr.com
By Kathy McCabe
Want to read more about travel? Get your free copy of our new digital magazine, Perillo Traveler!