Published on Thursday, January 19, 2017 by Kathy McCabe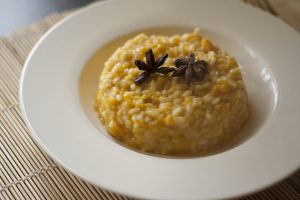 The Italian region of Lombardy has been chosen as one of the 2017 European Regions of Gastronomy, which aims to "showcase the gastronomic creativity, identity and dynamism of Europe's regions" and to promote the integration between food, culture, creativity and tourism. The four cities in eastern Lombardy represented in the designation are Bergamo, Brescia, Cremona and Mantua, which was also the Italian Capital of Culture in 2016.
Lombardy has 15 slow food establishments, 23 Michelin-starred restaurants, eight wine tasting routes, and is rich in culture and heritage as well, with nine UNESCO World Heritage sites. The region is home to fashionable Milan and Lake Como, and features alpine and plains geography. Typical food products in Lombardy include salami, wine, cheese, filled pasta, polenta and risotto, but each city has its own distinct specialties.
In Brescia, you can find Roman ruins and Renaissance architecture as well as Franciacorta sparkling wine and casoncelli, pasta filled with meat. Cremona's local specialties are mostarda, candied fruit in a syrup made with mustard; and nougat, the soft, nut-studded confection allegedly first made for the wedding of Francesco Sforza and Bianca Maria Visconti in 1441. Cremona also has one of the world's largest astronomical clocks and one of the tallest medieval brick towers in Europe.
Mantua, which received the UNESCO World Heritage site designation for its Renaissance architecture known for dishes like tortelli di zucca, egg pasta with a pumpkin filling, and torta sbrisolona, a spiced cake with almonds. Bergamo, a walled city with a funicular linking the upper and lower parts of the city, shares some of its culinary distinctions with other nearby cities. Like Mantua, the city is known for producing several kinds of Italian cheeses, such as grana padano, provolone, taleggio and gorgonzola. Bergamo's version of casoncelli is filled with Parmesan cheese, garlic and nutmeg, and its famous take on polenta is, polenta e osei, a cake made with polenta, chocolate, hazelnut cream, and rum.
Cities that receive the European Region of Gastronomy award are encouraged to work together to promote their region through collaborations between restaurants, hotels, and other tourist entities. Lombardy plans to pair activities highlighting its cultural splendor with food and wine tourism and curated dinners of local dishes. On the agenda are walking tours, a boat trip on Lake Garda, cooking workshops, a tractor ride through the fields, and visits with agricultural workers. Brescia will host festivals such as Open Cellars; Golositalia, a gourmet wine and food fair; and Franciacortando, another gourmet food festival in which Michelin-starred chefs from around Italy whip up Lombardian specialties.
The award is given to two or three European regions each year that demonstrate a "holistic approach that includes agriculture and food culture relating to place, hospitality, eating, food production, food ways, food traditions, and how one feels about their food culture." The European Region of Gastronomy organization also fosters discussions around sustainability, education, innovation, hunger, health, globalization, and the connection between urban and rural communities.
The other 2017 Regions of Gastronomy are Riga/Gauja in Latvia and Aarhus/Central Denmark.
— Kathy McCabe