Published on Monday, January 23, 2017 by Kathy McCabe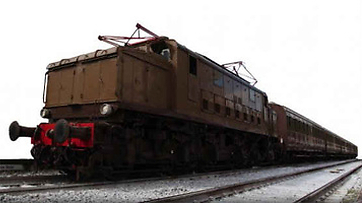 In mid-January, an historic train took its inaugural journey from Naples to the UNESCO World Heritage Site of Reggia di Caserta, offering a special day tour of Caserta's 18th-century royal palace. The Reggia Express is a restored 1930s vintage train with an electric locomotive, and its three carriages can accommodate 234 passengers.
The tour itinerary includes a visit to the Reggia Borbonico (Royal Bourbon) palace (with an audio guide) and a buffalo mozzarella tasting and educational workshop by the Consortium for the Protection of Buffalo Mozzarella. The Baroque palace was built as a residence for the Bourbon king of Naples Charles VII in 1752 and features two dozen royal apartments and 120 hectares of gardens, including fountains, waterfalls, sculptures and manicured Italian and English gardens.
For now, the route is a pilot project; if there is interest and funding from the region, organizers plan to offer the tours on two Sundays per month. The idea for the route, meant to promote railway tourism in Italy, which remains underutilized, came from a similar historic train that connects Naples to the Pietrarsa Railway Museum.
Round-trip tickets for the one-hour journey and day tour, including admission to the palace, cost 18€. The train departs from Naples Central Station at 10 a.m. and leaves Caserta at 5 p.m. Visitors can buy tickets on www.trenitalia.com, at Naples Central Station or through the Trenitalia app.
By Kathy McCabe