Published on Friday, January 27, 2017 by Kathy McCabe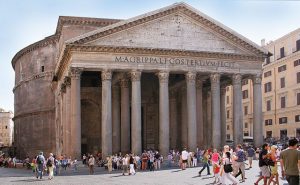 The Pantheon, one of the few ancient Roman sites that does not charge admission, is mulling an entry fee beginning in 2018. Italian Culture Minister Dario Franceschini told ANSA the fee would be low, but did not say exactly how much the monument would charge. Around 7 million visitors came through the Pantheon in 2016, and according to Franceschini, the proposed entry fee would help with maintenance costs. Further, 20 percent of the funds would be used to help manage other Roman museums and palazzi, reports The Art Newspaper.
Built in 27 BC by Marcus Agrippa, the Pantheon was dedicated as a temple to worship Roman gods and was converted into a Christian church by Pope Boniface in 609 AD. The building is one of the best-preserved Roman monuments, and has the world's largest un-reinforced concrete dome. Because it is a house of worship, the Roman diocese must approve the entry fee proposal, and are expected to reach a decision before their parliamentary term is up in February 2018.
By Kathy McCabe