Published on Monday, March 6, 2017 by Kathy McCabe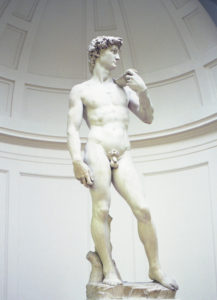 Today, Michelangelo's birthday, the Accademia in Florence will is launching its new membership card, called the Friends of David after the sculptor's most famous piece. The card is aimed at Florentines or frequent visitors, including foreigners. For those under age 28, the card will cost 30€ per year, while other price tiers come at 50€ and 100€ per year.
Museum director Cecilie Hollberg told Corriere Fiorentino that the Accademia isn't necessarily aiming to increase overall visitor numbers, as the museum logged a year-over-year increase in visitors of 17% in December 2016 and 10.5% in January 2017. Instead, the Accademia hopes the membership program will encourage locals to visit and take pride in the museum. Hollberg said, "I'd like for someone to say, 'I have a friend visiting the city on Saturday, I'll bring them to my Accademia.'"
Members will enjoy free priority museum entry with no blackout dates, discounts at the museum store, invitations to events and, for the top membership tier (100€), free entry for up to four non-member guests on the member's birthday. To sign up, email info@friendsofdavid.org.