Published on Sunday, April 9, 2017 by Kathy McCabe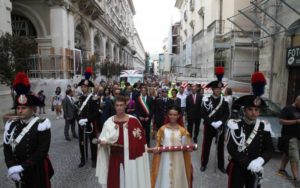 After taking a year off from submitting UNESCO World Heritage bids, Italy has put forth two bids for the country's central region for consideration next year. If approved, the sites would be added to Italy's list of 51 total UNESCO World Heritage sites, the most of any country.
The towns in question, Norcia and L'Aquila, were hard-hit by earthquakes in 2016 and 2009, respectively. The bid for Norcia focuses on its truffle production, while L'Aquila is seeking recognition for its signature Perdonanza Celestiniana Festival.
Norcia is known for its ham and its black truffles, which grow in the region's hills and warm climate. The industry is estimated at half a billion euros, but the region's agriculture industry has lost much livestock and revenue since the earthquakes. Norcia throws an annual fair, called Nero Norcia, for its main product that includes markets and truffle tasting events.
L'Aquila hosts its religious festival annually to commemorate the anniversary of the induction of Pope Celestine V on Aug. 29, 1294, at the town's Basilica di Santa Maria a Collemaggio. The pope issued a Papal Bull – as in a decree, not an animal – pardoning the sins of those who passed through the church's Holy Door, and the town celebrated with a parade and festival. In doing so, Pope Celestine V set a precedent for the Catholic jubilee year, which was first celebrated by Pope Boniface III in 1300 and has continued approximately every 25 or 50 years since. The jubilee year is a time of forgiveness of sins and penitence.
Today, the town celebrates with a parade of revelers in period costumes and a ceremonial opening of the Holy Door. Pope Celestine V's body is kept at the Basilica di Santa Maria a Collemaggio and displayed during the festival; miraculously, it wasn't damaged in the earthquake.
The UNESCO World Heritage Committee in Paris will review the bids and make a decision by the end of 2018.
By Kathy McCabe