Published on Thursday, April 6, 2017 by Kathy McCabe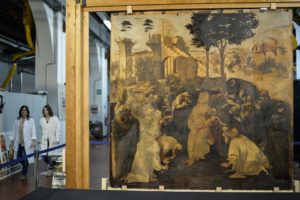 Leonardo da Vinci's Adoration of the Magi has been successfully restored and returned to the Uffizi Gallery. The painting spent six years in the Opificio delle Pietre Dure, a Florence research and conservation institute, whose conservation team left the painting cleaner and brighter.
The artist received a commission for the piece from Augustinian monks who intended to hang it in the San Donato in Scopeto church in Florence. Da Vinci painted the piece in 1481, in the early stages of his career, but left it unfinished after moving to Milan. It has been in the Uffizi's possession since 1670.
Adoration of the Magi features the Virgin Mary holding baby Jesus while the three Magi kneel in adoration. They are surrounded by several figures in the background, as well as trees and the ruins of a pagan building.
The painting has been installed in a special exhibit at the Uffizi that opened on March 28, called The Magical Universe of Leonardo da Vinci: The Adoration of the Magi Restored. Alongside it is another Adoration of the Magi, completed in 1496 by Filippo Lippi as a replacement for the unfinished da Vinci painting. The comparison between the two works highlights how the changes in Florentine culture and politics that occurred in the 15 years between the paintings influenced both works. The exhibit will run until September 24, 2017.
By Kathy McCabe