Published on Friday, May 5, 2017 by Kathy McCabe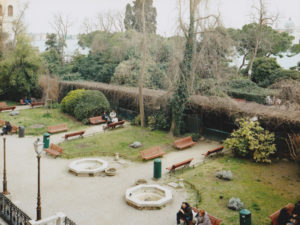 Next year, Venice's Royal Gardens will receive a makeover funded by the Italian Ministry of Culture and insurance company Generali, which will each take on half of the 5€ million project cost.
Once a site of "ancient splendour and significance" – according to Adele Re Rebaudengo, president of the nonprofit Venice Gardens Foundation – the gardens are now in need of several fixes. The wooden drawbridge will be strengthened so that visitors can walk on it, and the greenhouses and the Neoclassical pavilion will become cafés. Evergreens and flowers, such as hydrangeas, magnolias and camellias, will fill the original geometric flower beds. A pergola with wisteria draping over it will be a focal point.
The 5,500-square-kilometer space will be restored "in a formal and precise way, in keeping with its historic nineteenth-century design, but at the same time filled with the unexpected," says Re Rebaudengo. They are located between St. Mark's Square and the Grand Canal and were built for Napoleon in the early 19th century.
Once complete in the second half of 2018, the Venice Gardens Foundation will maintain the gardens.
By Kathy McCabe