Published on Wednesday, June 21, 2017 by Kathy McCabe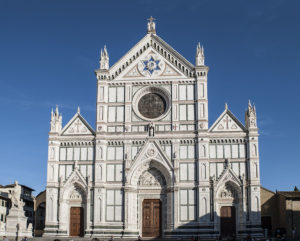 To discourage tourists from loitering, eating lunch and leaving trash on the steps of two of its most famous churches, Florence street cleaners will hose down the steps and prohibit people from entering the area. The Basilica di Santa Croce, where Michelangelo is buried, and the Chiesa di Santo Spirito – along with the streets of the city center, a UNESCO World Heritage site – will be affected daily around lunchtime.
Florence Mayor Dario Nardella told The Guardian, "It's not that eating a sandwich while walking along the street is banned or that people can't sit down at other times. We want to put people off from camping out. If they sit down, they'll get wet. Instead of imposing fines, we thought this measure was more elegant."
Millions of visitors come to Florence each year, many of them day trippers arriving on cruise ships. In response to the influx of tourists, the mayor has implemented measures aimed at preserving Florence's culture by requiring restaurants in the historic city center to use local food products that are typical of Florence and Tuscany. He also denied an application by McDonald's to open a location in the iconic Piazza del Duomo.
Nardella said, "We have nothing against tourists. We know that they are a great resource for our city. But there is a problem with respecting decorum. The majority of visitors are respectful and elegant. But there has been an increase among those who don't respect our cultural heritage, who sit down on church steps, eat their food and leave rubbish strewn on them."
–Kathy McCabe