Published on Friday, July 14, 2017 by Kathy McCabe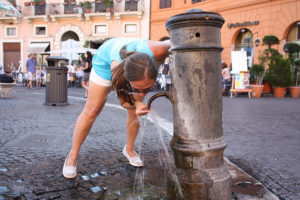 A summer heat wave is prompting the city of Rome to turn off up to 30 of the city's 2,800 public drinking fountains every day, much to the Roman public's dismay. The fountains supply clean – and free – drinking water on street corners and in piazzas around the city, and some are concerned the shutoff will leave Romans, especially those who are homeless, dehydrated.
"How can you take away fresh water from tourists who walk and want to refresh themselves?" Rome resident Carmelo Teti told Reuters. "When I go around I fill up this bottle with water because to buy mineral water costs and I cannot afford it."
According to environmental group Eco Italia Solidale, the drinking fountains represent 1 percent of the city's water supply, and help keep the sewers clean and water plants in public areas. Not to be confused with the many artistically significant fountains in Rome, the drinking fountains, known as nasoni or "big noses," are cylindrical metal fixtures a bit taller than a fire hydrant.
Water company Acea wrote a letter to Rome Mayor Virginia Raggi stating that it is "absolutely aware of the inconvenience" and cited the "exceptional drought" as the reason for the shutoff. The company plans to fix and replace the city's deteriorated pipes, which, consumer group Codacons says, leak 40 percent of their water.
Acea also intends the shutoff to reduce the amount of water taken from nearby Lake Bracciano – but, the Committee for the Defence of Lake Bracciano argued, "You won't save Lake Bracciano by leaving Rome's homeless thirsty."
By Kathy McCabe