Published on Thursday, August 10, 2017 by Kathy McCabe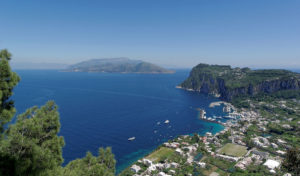 Capri's mayor, Giovanni De Martino, is pushing back against overcrowding on the tiny island, saying it could "explode" from too many tourists. The island off of the Amalfi Coast receives 2 million tourists each year and up to 15,000 during peak summer season, 80 percent of which only visit for a day trip from Naples or Sorrento or as part of a cruise itinerary.
It's easy to see the appeal – the chic and beautiful island is home to the famous Blue Grotto, and has long been a destination of choice for Hollywood, literary and wealthy elites from around the world. But with too many people descending on the island at once, the experience of visiting the island is less enjoyable for everyone.
"There's the risk that Capri could explode," De Martino told The Telegraph. "We welcome tourists, but 2 million a year is a bit too much."
"The boat arrivals are far too concentrated and that creates tension and annoyance for locals and tourists alike," he said. "We have asked the ferry companies to spread out their arrivals more; so far, they have done nothing to take our concerns into consideration or improve the situation."
Ferry companies often overlook laws that require them to wait at least 10 minutes between the arrival of each boat before passengers can disembark. These regulations are intended to give passengers time to disperse through the Marina Grande harbor. However, breaking these rules creates a massive crush of people during peak hours, such as the mornings, and results in long lines for taxis, buses and the funicular railway that connect the harbor to the rest of Capri. The Telegraph reports that on one day recently, three boats unloaded 800 people in eight minutes.
"We don't want to limit arrivals and we are very reluctant to talk about a fixed number of people being allowed to visit the island each day, but we do want people to come at a less frenetic pace," De Martino said.
De Martino has been in contact with the mayors of Venice and Cinque Terre, which also experience overcrowding, to discuss possible solutions. One proposed idea is to encourage people to spend at least one night on Capri to fully experience its beauty and its quieter areas, as the idyllic island is home to vineyards, Roman ruins, rock formations, limestone cliffs, and spectacular views of the Bay of Naples.
"People don't have the opportunity to see the beauty of the island. They waste much of their time queuing for taxis and buses and trying to get on the funicular," said De Martino.
By Kathy McCabe