Published on Thursday, August 17, 2017 by Kathy McCabe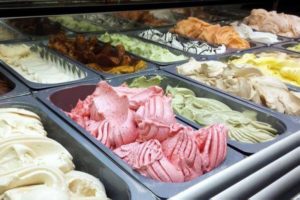 When the Gelato Festival returns to Florence for the eighth time in September, it will unite Europe's best ice cream makers – and ice cream lovers – to crown the continent's best ice cream. Sixteen ice cream makers will compete in Florence and present flavors designed especially for the festival. A panel of journalists and gelato experts, along with a popular vote, will decide the best gelateria – which means the public can taste the competing flavors!
In addition, attendees can learn about the history of gelato, learn how it's made, watch presentations from gelato masters  and play games.
The festival has toured seven European cities to come up with the 16 finalists, and the Florence festival is the final event, held in Piazzale Michelangelo from September 14 to 17. Tickets are available on the Gelato Festival website and cost 12€.
Here's a list of the finalists and their flavor entries:
Gelateria Ettamo of Florence; ettamo fragola, a strawberry-balsamic vinegar sorbet
Gelateria Arà, also of Florence; crema di ricotta azteca al bergamotto, a cannoli-flavored gelato
Gelateria Il Re Sole of Rome; zabaione come una volta, inspired by the classic custard dessert
Gelateria Bar della Darsena of Fiumicino; about strawberry and red pepper
Gelateria Golosia of Turin; Miami Vice, a tropical concoction containing strawberry, coconut and pineapple
Gelati d'Antan, also of Turin; gelato del Vignaiolo, inspired by the Malvasia grapes of Piedmont
Gelateria Bar Marea of Foggia, in the Puglia region; femminello IGP, a lemon-almond flavor
Gelateria VeroLatte of Vigevano, Lombardy; il mio primo vero latte, which combines Brunilde milk, honey and rice
Gelateria Marron Glacés of Catanzaro, Calabria; nonna rosa, a combination of mascarpone, rice flour biscotti, strawberries, and homemade syrup
Crème Glacee of London; crème della baklava, an ice cream version of the dessert baklava
Fabulous Ice Fires, also of London; wild cherry – great freedom, composed of English sweet red and dark cherries, German sour cherries, and Italian Amarena cherries
Equi's Ice Cream of Hamilton, Scotland; Scottish raspberry
Quatro Si of Pruszków, Poland; plum with a hint of cinnamon
Limoni of Warsaw, Poland; inne lemon curd, a lemon cream flavor (inne means "other" in Polish)
Cristallino of Bad Tölz, Germany; communis fortis, containing pistachios, almonds and hazelnuts
La Piazza of Bargteheide, Germany; joghur e fragola, with yogurt and wild strawberries from northern Germany
By Kathy McCabe