Published on Tuesday, August 1, 2017 by Kathy McCabe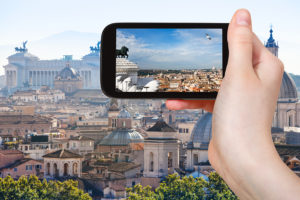 Good news for travelers who rely on their smartphones to get around: Italy has launched a nationwide free Wi-Fi app that enables Italians and foreigners to connect to hot spots all over the country with a single sign-on. Users only need to fill out information the first time they log in; after that, they can connect automatically to Wi-Fi hotspots around the country at hotels, train stations, and other public spaces.
This is especially helpful for Americans whose smartphone data plans don't work overseas or those without unlimited data plans, as they can now access online maps and travel apps, book tickets for museums, or look up information while out and about.
The app, called Wifi Italia, is available in Italian and English on Google Play for Android devices and on Apple's App Store. So far, it has been introduced in Rome, Bari, Milan, Trento, Tuscany and Emilia Romagna.
Wifi Italia is a project of the Italian Ministries for Economic Development and for Culture, which introduced the app to simply life for users. The app is part of an initiative created in July 2016 to improve digital services for tourists.
Culture Minister Dario Franceschini told The Local that the app is an "indispensable tool for tourism." He said the ministries will analyze the anonymous data that the app collects to "improve Italy's cultural offerings" and study user behavior.
The rollout has not been without drawbacks, as many reviewers complained that it was not yet available throughout the whole of Italy, and as reporters at Italian newspaper La Repubblica were unable to connect to hotspots in Rome and Milan. The government plans to update the app in the coming months to provide more comprehensive coverage.
By Kathy McCabe