Published on Monday, August 28, 2017 by Kathy McCabe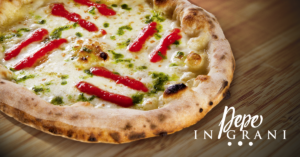 Pepe in Grani, in the town of Caiazzo in the region of Campania, has won the title of best pizza in Italy for 2017 according to online Italian pizzeria guide 50 Top Pizza. The restaurant received top marks not only for the quality of its food, but also for its beer and wine list, service, and furnishings.
Pepe in Grani owner and third-generation pizzaiolo Franco Pepe opened his restaurant in 2012 after making pizza in his family's nearby Caiazzo establishment, Osteria Pizzeria Pepe. He uses ingredients from local farms and suppliers – everything from the typical buffalo mozzarella and pork sausage to the unusual chickpeas and potatoes – to create pies that customers come from all over Italy to taste. For those looking to spend the night in the presence of Italy's greatest pizza, two rooms above the restaurant are reservable.
Whatever awards Pepe in Grani receives for its quality of food, it has also received informal recognition for its contribution to the town economy. As diners come from far away to enjoy the pizza, they also experience Caiazzo's historic center, and both employment rates and business permits have risen since the pizzeria's opening.
The awards are given by 50 Top Pizza, a website dedicated entirely to Italian pizzerias. The site was created by wine and food journalist Luciano Pignataro as well as Albert Sapere and Barbara Guerra, who organize Le Strade della Mozzarella, a conference dedicated to Italian food products for those who work in the food industry. To name the winner, 100 undercover pizza inspectors visited 500 pizzerias all over Italy.
"50 Top Pizza is not only a useful guide for those seeking excellent pizza in any part of the country, it is a true journey through the different styles and typical products of Italy and thus pays homage to the concept of high quality Italian-made goods," Pignataro, Sapere and Guerra told ANSA.
The rankings reflect the variety of pizza in Italy, with the top 50 restaurants coming from 13 of the country's 20 regions. Campania had the most winning pizzerias, at 19 – unsurprising considering Naples, its capital city, is also the Italian pizza capital – followed by Lazio with six and Tuscany with five. Second overall was Naples' Gino Sorbillo, and third was Francesco & Salvatore Salvo in the Neapolitan town of San Giorgio a Cremano.
The honor was bestowed upon Pepe in Grani at an awards ceremony at Castel dell'Ovo in Naples, along with other awards given to other pizzerias. Pizzamaker of the Year went to Isabella De Cham of Naples' 1947 Pizza Fritta, Baker of the Year went to Pierluigi Roscioli of Rome's Antico Forno Roscioli, and Innovative Pizzeria of the Year to Morsi & Rimoli in Aversa. Ober Mamma in Paris received the award for best Neapolitan-style pizzeria outside of Italy.
By Kathy McCabe