Published on Monday, August 21, 2017 by Kathy McCabe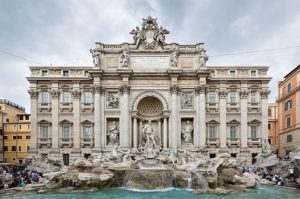 Rome Mayor Virginia Raggi's administration has introduced a temporary period of controlled access to the Trevi Fountain through a set path. During the 80-day trial period that began on July 25, volunteer patrols are controlling the flow of traffic around the fountain and reminding tourists not to eat, swim, sit or lean on the fountain. Those who break the rules may be fined up to 240€. (Tossing a coin into the fountain is still allowed, so your return to Rome will still be guaranteed.)
Volunteer patrols are staffed by retired police officers from both the Associazione of Cives Catervae Custodes Martyrs of Nasiriyha and the Associazione Regionale del Lazio Vigili Urbani in Pensione. They are on duty every day from 9 a.m. to midnight.
The trial period will end in mid-October, at which point city officials will decide whether or not to make the patrolling permanent. The move is an effort to control the large crowds that surround the fountain, and a further step to eliminate unruly behavior.
Earlier this summer, Rome banned people from eating on or around the fountain, getting in them, letting pets drink from them, or throwing things into them (with the exception of coins). The ban on these behaviors also applies to around 40 historically significant fountains in Piazza del Popolo, Piazza di Spagna, Piazza Barberini and Piazza Navona.
The Trevi Fountain reopened in November 2015 following a 2€ million restoration funded by Fendi, and is one of the most popular and crowded tourist attractions in Rome.
By Kathy McCabe