Published on Monday, September 11, 2017 by Kathy McCabe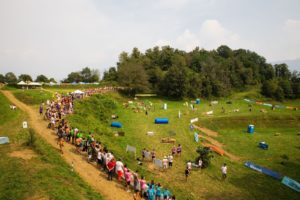 This weekend, the abandoned Italian town of Consonno hosted the eighth annual Nascondino World Championship, a hide-and-seek event of epic proportions and the world's only event of its kind. Eighty teams of five players each from around the world gathered to compete for the title, camp in the valley, and listen to live music.
The hide-and-seek event is played over three days in a large valley (the town's buildings are off limits, as they are not structurally sound). Players have one minute to find a hiding spot – behind hay bales, trees and other barriers – and must make it back to home base before the seeker to receive points.
The event also hosted a music festival, including hidden concerts that guests had to find by following the noise.
"The beauty of the event is that adults get to become children again for the weekend," Giorgio Moratti, an event organizer, told Smithsonian.com.
Consonno was developed by Count Mario Bagno, a real estate developer who wanted to turn the rural community into the "Las Vegas of Italy." In the 1960s, he built a luxurious hotel, a medieval castle, a pagoda, a train ride, and several nightclubs in the town. Bagno pushed out Consonno's farmers, whose families had lived there for centuries, to create his adult playground, promising them the construction would bring jobs and wealth.
However, the party town's heyday lasted only eight years – a landslide destroyed roadways and buildings in 1976, and Consonno never recovered. Now, weeds and graffiti have overtaken what remains of the former dance halls and hotels, turning Consonno into a ghost town.
Consonno is in the foothills of the Alps, in the region of Lombardy in northern Italy, and it is this picturesque setting and mysterious ghost-town vibe that make it the perfect location for a giant game of hide and seek.
"Consonno and its history are well known throughout Italy, but we want people to come and discover new parts of the village, since it has such an amazing landscape," Moratti said. "Our goal is to underline the hidden parts of Consonno."
By Kathy McCabe