Published on Saturday, October 21, 2017 by Kathy McCabe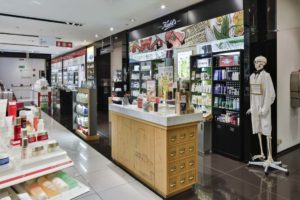 Rinascente, the historic Italian department store founded in Milan, will return to the center of Rome for the first time since the Spanish clothing chain Zara took over its original location over 11 years ago.
Formerly on Via del Corso, the new Rinascente (previously known as La Rinascente) opened this month in a stunning new site nearby on Via del Tritone. The 17,000-square-foot store includes eight floors and four restaurants, one of which offers panoramic views of the skyline of Rome.
The floors will be stocked, as they used to be, with primarily Italian made- and manufactured-luxury goods.  The new store has seven shop-front displays and 96 windows, which are expected to be a draw for about eight million visitors each year. Tried-and-true brands like Gucci, Ferragamo and Fendi will be on offer, along with a first for Rinascente: Prada.
The store features a large interior court and a small 20th-century "Palazetto," to be occupied by Louis Vuitton, But the most exciting part of the building may not be anything new, but the underground Roman aqueduct built by Emperor Augustus in 19 A.D.
Visitors will be able to see that 60-meter section of the Aqua Virgo in the store's basement; it still works, and still provides water for Rome's iconic Trevi Fountain. A coffee shop allows those visitors to pause and contemplate the aqueduct, too—after they've completed a stroll through the store's varied "Design Supermarket" with gifts, home goods, and smaller items associated with the store's 800 different boutiques.
As Pier Luigi Cocchini, Rinascente CEO, said about the new Rinascente: "It is not just a simple department store, but a meeting place, a magnet for the whole city." No wonder the store's October 12th launch brought out Rome's signore bene—none of them wants to miss out on this centrally located and Italy-centric destination.
By Kathy McCabe