Published on Wednesday, October 4, 2017 by Kathy McCabe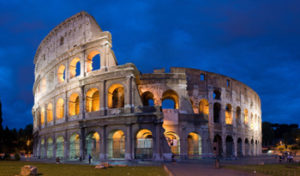 Even if you've visited Rome many times and seen it from every angle including the Vatican's keyhole vista, there's an entirely new view in Italy's iconic city—from the fourth and fifth levels of its unforgettable Colosseum, the largest amphitheater ever built.
Starting November 1st, visitors will be allowed access to those restored rows of seats, as well as a hallway that connected them, for the first time in 40 years. These levels, 171 feet high, offer unparalleled views of the city of Rome, the Palatine Hill, the Roman Forum—and the Colosseum itself. That's ironic, since these high levels (known as the summum) were once considered the "cheap seats," available to commoners without enough money or prestige to sit closer to the action below.
Back in the day, these would have included steep wooden benches along with standing room, although today of course only the stone walls remain. Visitors would receive tickets with seat numbers and were told which entrance to use by ushers, much like today in any urban arena. Due to the long climb up as well as the length of the spectacles, many people also brought food and drink along with them: "Pieces of chicken, cereals, that kind of thing" says Professor Rossella Rea, Director of the Colosseum.
These newly opened areas are part of a major restoration of the Imperial Roman Colosseum that began in 2011, the first full cleaning and repair in the structure's history. Once the site of gladiator battles and other violent entertainments, the Colosseum has in more recent times held major Roman Catholic ceremonies, large concerts and other public events.
"It is an incredible view of the Colosseum and Rome, which the visitor will remember as one of the most beautiful things he has seen in his life," Italian Culture Minister Dario Franceschini said at a media presentation on Tuesday. In order to see the restored seating levels, visitor will need to book guided tours that take 25 people at a time.
By Kathy McCabe