Published on Sunday, December 3, 2017 by Kathy McCabe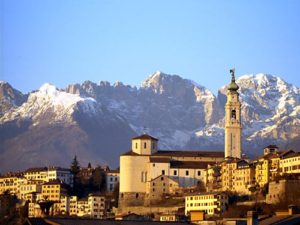 Business newspaper Il Sole 24 Ore has named Belluno at the top of its annual livability ranking of 110 Italian provinces. The province, located in the region of Veneto just north of Venice, was lauded for its overall quality of life and for its tourism industry and growing manufacturing and industrial sectors.
Il Sole 24 Ore used 42 criteria, split into six categories, to rank the provinces: wealth and consumption, employment and innovation, environment and services, demographics and society, justice and safety, and culture and free time. Belluno scored at the top of all six categories and was noted for its low crime and unemployment rates, lack of crowds, and average wealth.
With a total population of about 212,000 in an area of 1,420 square miles, Belluno is a picturesque mountain province that comprises the Dolomites in the north, and the foothills of the Alps and the Valbelluna valley in the south. The area attracts tourists with its alpine scenery and outdoor activities, as well as its ancient, quaint cathedrals and piazzas.
In second and third place, respectively, were the northern provinces of Aosta and Sondrio. In contrast, the highest-ranked southern province, Oristano in Sardinia, was No. 52 on the list.
Of Italy's largest cities, Milan ranked highest at No. 8, down six spots from last year's ranking due to its having the highest crime rate of any province. Rome slipped 11 spots to No. 24 because of its crime rate, crowded housing and lack of economic opportunities. Naples ranked No. 107, while Caserta – just north of Naples – was last because of its high crime, poverty and unemployment rates. Florence ranked first for culture, while the province of Ascoli Piceno in the Le Marche region ranked first for work, as it is home to large companies as well as startups.
By Kathy McCabe