Published on Tuesday, January 16, 2018 by Kathy McCabe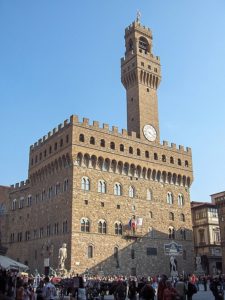 At the Palazzo Vecchio in Florence, a newly restored bathroom used by Cosimo I de' Medici – called the Comodo di Cosimo – is now open to the public.
More like a spa than a bathroom, the Renaissance-era Comodo di Cosimo features a large stone bathtub, a hydraulic system used to heat the water, and a niche with a vent that may have contained bottles of essences to infuse aromas into the air. The bathroom is adjacent to the Grand Duke's bedroom and underneath the landing connecting Cosimo's apartments to his wife Eleonora's.
The grand retreat was decorated by artist Marco da Faenza and features frescoes and Grotesque and stucco elements, which are also found elsewhere in the Palazzo Vecchio. Scenes in the frescoes include depictions of the story of Cupid and Psyche, which was written by Lucius Apuleius Madaurensis in the second century AD. The frescoes are thought to have been painted in time for the marriage of Cosimo's eldest son Francesco and Giovanna d'Austria in December 1565.
The 20,000,€ five-month restoration was sponsored by bathroom companies Geberit and Pozzi-Ginori, as well as Fondaco s.r.l., a consulting company that advises on the restoration of art and cultural heritage. The Servizio Belle Arti of the City of Florence planned the restoration, while Dini Restauri carried it out.
By Kathy McCabe