Published on Saturday, February 10, 2018 by Kathy McCabe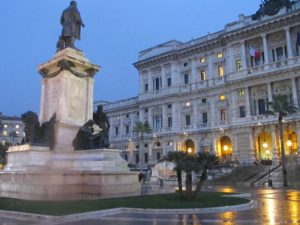 Three Italian neighborhoods are among Business Insider's list of Europe's 18 coolest neighborhoods to visit in 2018: Monti and Piazza Cavour, both in Rome, and Campania (which is really a region but who's arguing) in southern Italy. The list was curated by travel experts, including from Suitcase Magazine, Spain-based Marugal Hotel Company  and the app HolidaySwap.
Monti, the neighborhood that is home to the Spanish Steps, is also home to small businesses, markets, and shops. It is one of Rome's oldest residential neighborhoods, with working-class and bohemian vibes that attract locals. Says India Dowley of Suitcase Magazine, "Only a few tiny (cobbled) streets a 10 minute walk from the Colosseum, the area is packed with vintage stores and wine bars, attracting young people and locals while remaining relatively undiscovered by tourists despite its location."
Pablo Carrington of Marugal Hotels chose Piazza Cavour (pictured above) for its restaurants. This residential neighborhood isn't a tourist trap, and you're likely to dine with locals, or shop alongside them at the market on Via Monte d'Oro. Piazza Cavour also has a small, picturesque spot of grass to relax in.
The region of Campania received a nod from James Asquith of HolidaySwap for its authenticity, as it offers tourists a chance to get out of the city and see how locals live. Though it is the third-most populous and the most densely populated region in Italy, Campania still has thousands of square miles of countryside to explore, including mountains, hills, plains, and coast. A road trip through the region will expose visitors to good weather and great food, including mozzarella, olives and, of course, pizza.
By Kathy McCabe