Published on Friday, May 25, 2018 by Kathy McCabe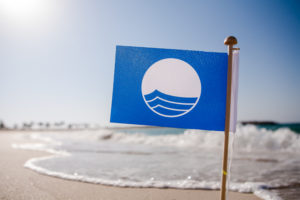 Summer is a happy season, and it's made even happier each year when the international Blue Flag program heralding the world's cleanest beaches announces it choices. For 2018, a great number of those in Italy are set along the Tyrrhenian Sea in Tuscany.
You might find it impossible to choose, and it just gets tougher when you widen the Blue Flag map out to the rest of Italy—you can swim near forests, or mountains; see dolphins, or nothing at all; rent a chair, or just lay out your own towel. Some beaches are rocky, others sandy, and some are within walking distance of restaurants and shops, while others are isolated and dreamlike.
And although some of the beaches on here and further south are famous and crowded (Positano's Spiaggia Grande, anyone?), The Florentine has selected some that are off the beaten path and positively peaceful. Check out Follonico's Spiaggia Nord if you like surf-based sports, or Camaiore's Lido Arlecchino for some old-fashioned relaxation.
Of course, the best part of choosing between these beaches is that you're guaranteed a clean, environmentally friendly space. The Denmark-based Blue Flag organization challenges beaches and other water-centric locations (marinas, e.g.) to adhere to a strict code of Best Practices that make seasonal waterside fun healthy for all of the earth's creatures and plants. Those practices make things better for people, certo: If you're visiting a Blue Flag beach, you won't have to worry about the water or see litter. You can concentrate on the sea and sky.
Italy now has 368 Blue Flag beaches, up from 342 in 2017, and this year with a welcome rise in new qualifying beaches in Campania, which is now third after Liguria and Tuscany in the number of such sites. You're already spoiled for choice, but if you'd like to be truly spoilt, here's a list of the all of the 2017 Blue Flag beaches in Italy.
By Kathy McCabe