Published on Friday, June 1, 2018 by Kathy McCabe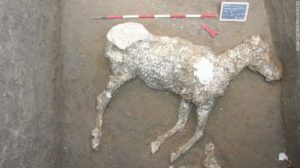 People have long marveled at the remains of human beings preserved in the ashes of Pompeii in the 79 AD eruption of Mount Vesuvius. Men, women and children were trapped in situ, sometimes in family groups, sometimes alone, nearly 1150 in total rediscovered.
But a recent find will help everyone to understand more about the role of animals in this region's ancient life. During the investigation of clandestine activity in underground tunnels, local carabinieri discovered the remains of a well-preserved suburban villa, complete with the remains of a horse in the stable. While remains of a pig and a dog have been found previously, this is the first evidence of what must have been a vital piece of the city's life. The outline of the animal's ear is consistent with a horse rather than a donkey or other type of equid.
The remains, recreated using the same plaster-casting method used for the humans, reveal a body smaller than the ones we are used to calling "horse," but in proportion to what we know of horses. Those proportions, along with the remnants of an expensive bridle made of iron and bronze, have led researchers to conclude the animal might have been used for parades. It could have even been a circus or racehorse, the archaeologists say, according to The Washington Post.
Given the Pompeii horse's location, position and accouterments, it will certainly help researchers learn more about life in the city that was frozen in time nearly almost two millennia ago. This "extraordinary discovery" offers a ghostly look at the close relationship between people and horses, reminding us that humans have never really been fully separate from the animal kingdom. For more photos of the excavation, including a video, check out this article.  
By Kathy McCabe