Published on Friday, June 29, 2018 by Kathy McCabe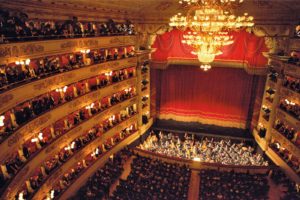 The upcoming season of opera at Teatro Alla Scala  in Milan will include Gianni Schicci, a comedic opera by Puccini, staged and directed by Woody Allen. Set in the 1930s in New York's Little Italy, Allen's version of Gianni Schicci was successful in a 2015 Los Angeles run. The opera is based on a portion of Dante's Divine Comedy in which Schicci is sent to Hell for impersonating Buoso Donati to receive benefits from Donati's will.
Allen, 82, has recently faced allegations that he sexually abused his adopted seven-year-old daughter in 1992. As a result, several actors and directors have distanced themselves from him, but not La Scala director Alexander Pereira, who said, "Let's not give that too much weight."
La Scala's 2018-19 season begins on Dec. 7, 2018, and Gianni Schicci will run in July 2019. Attila, a Verdi opera from 1846, will open the season.
"Half of the program will be dedicated to the Italian repertoire, because opera was born here," Pereira said.
By Kathy McCabe