Published on Sunday, July 1, 2018 by Steve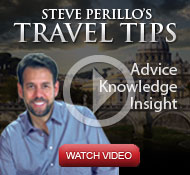 I'm Steve Perillo of Perillo Tours. I have a video series called Steve's Travel Tips to share all the insider Italy travel tips I have learned over a lifetime of travel to Italy.
This week I'm talking about enjoying Italy's beaches. It is July and beaches are filling up but come August,  Italy's beaches  will be covered with Italians soaking up the sun and sand, enjoying them with family as well as with friends. If you're planning to visit any Italian beaches, I tell you how to enjoy them, Italian style!