Published on Wednesday, August 1, 2018 by Kathy McCabe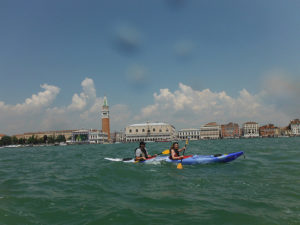 As of August 1, small recreational watercrafts such as kayaks, canoes, paddleboards and pedal boats are no longer allowed on the main waterways of Venice. The ban does not apply to Venetian residents who own these boats, gondolas or tour companies that are regulated by local authorities.
Previously, small recreational boats could not travel on the main waterways from 8 a.m. to 3 p.m. on weekdays and 8 a.m. to 1 p.m. on Saturdays. The new policy applies a permanent ban to the busiest canals, though in some minor waterways, the ban will only be in effect from 7 a.m. to 5 p.m. on weekdays and 7 a.m. to 3 p.m. on Saturdays.
Areas affected by the ban include the Grand Canal, the Cannaregio Canal and other main waterways used by the city's public transport vehicles. Rubber dinghies and other inflatable watercrafts are also banned, even for Venetians who own them.
The city of Venice began more strictly regulating water traffic in 2013 after a German tourist was killed while riding in a gondola that was hit by a ferry.
By Kathy McCabe
Photo by kayakkuy, flickr.com