Published on Thursday, August 23, 2018 by Kathy McCabe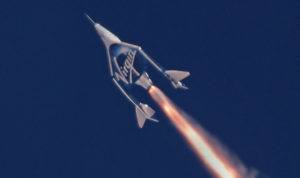 Thanks to a July agreement between Italian aerospace companies and Virgin Galactic, Italy could soon launch itself into the nascent world of space tourism. On a recent visit to the White House, Italian Prime Minister Giuseppe Conte talked about "launching, as soon as possible, new planes that, crossing the atmosphere, will be able to connect Italy and the United States in an hour and a half."
Suborbital flights operated by Virgin Galactic would take off from Grottaglie, a city of about 35,000 in Puglia, giving passengers an opportunity to view the Earth's curvature and experience five minutes of minimum gravity. The flights would cost about $250,000, and connections between Los Angeles and Grottaglie could take about two and a half hours.
Virgin's White Knight II airplane would carry the SpaceShipTwo Unity, with passengers on board, to an altitude of 65,000 feet – 20,000 feet higher than the maximum commercial cruising altitude, and 5,000 feet higher than the Concorde jet. At 65,000 feet, the spaceship would break off and speed up to 62 miles above sea level (more than 327,000 feet) to reach the Kármán line between Earth's atmosphere and space.
Though Puglia President Michele Emiliano said the 6G speeds might be "a little stressful" for passengers, the dramatic decrease in flight time would be beneficial for shipping cargo. Italian law currently doesn't allow for suborbital flights, but Emiliano is hopeful, imagining a future in which Grottaglie is an aerospace hub, complete with the wealth of both the industry and the flights' passengers.
According to Virgin founder Richard Branson, 600 people are scheduled to board flights from New Mexico, the original launchpad location, next year. Departures from Grottaglie would follow two years later if the project stays on schedule (cancellations and crashes have delayed departures for more than 10 years).
Grottaglie is most famous for its ceramics, which have been produced in the town since the 4th century BC, but would benefit from the economic injection the aerospace industry would provide. A deserted plan for Boeing to build a factory in Grottaglie, as well as the threatened closing of a nearby steel factory, have left the city in need of an economic boost.
The Italian transportation ministry concluded that the city's mild weather and two-mile-long airport runway would be perfect for the launch point. The city's airport, formerly used as a military airport, no longer transports commercial passengers, but still operates charter flights that often carry celebrities.