Published on Monday, September 3, 2018 by Kathy McCabe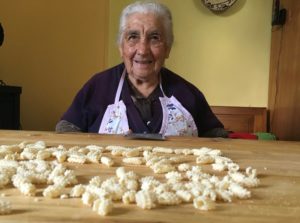 Everyone knows Italian grandmothers make the best handmade pasta, and if you're lucky, your nonna passed down her recipes and techniques. For the rest of us, there's Pasta Grannies, a YouTube channel that films Italian nonne making pasta by hand, the old-fashioned way.
Food writer Vicky Bennison, who is based in Le Marche and London, launched Pasta Grannies four years ago. Since then, she has interviewed nearly 200 nonne and received more than 300,000 YouTube subscribers. The videos, released every Thursday, showcase every type of pasta imaginable, from classic ravioli to little-known regional varieties such as lorighittas, a Sardinian ring-shaped pasta.
As the perfect complement, the videos show how to make sauces such as pesto or classic dishes such as Roman cacio e pepe, with simple instructions that viewers can follow at home. The nonne are also filmed making polenta, soup, bread, vegetables, or whatever their personal specialty is.
As young Italians spend more time outside of the home, the time-consuming art of making pasta by hand is becoming endangered. Bennison started Pasta Grannies to preserve the tradition and celebrate the nonne and their culinary skills. On the Pasta Grannies website, Bennison says pasta making "increasingly is a commercial activity – for chefs, pasta shops and factories – rather an a domestic one. So I thought I'd celebrate these women and their skills by filming them."
By Kathy McCabe