Published on Friday, November 16, 2018 by Kathy McCabe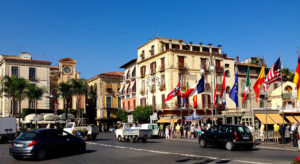 Mark  your calendar for Cyber Monday!
Perillo's Learning Journeys has an incredible special for Valentine's Day Live Like a Local in Sorrento: Land and Air, February 10 to 17, 2019. There is limited availability for this 8-day/6-night adventure. The Amalfi Coast is one of those places that alluringly draws one into its charm and romance. It doesn't get more romantic than the beautiful city of Sorrento – sipping fine wines, enjoying exquisite foods and immersing yourself in rich Italian culture.
This package includes:
* roundtrip air from JFK to Italy on Alitalia
* arrival and departure transfers in Rome and Sorrento
* 6 nights accommodations at the romantic 4-star Hotel Central
* Live Like A Local orientation and walking tour of Sorrento
* Limoncello tasting
* city tax
* continental breakfast daily
Price per person sharing: $1498
Single traveler: $1890
*Must be booked on Monday, November 26, 2018 between 6 a.m. and 11:59 p.m. The booking link on the  will be activated on November 26. No deviations allowed. Package must be paid for in full at time of booking and is non-refundable.
This is an online special so we would prefer you book online but you may also call Learning Journeys at 888-884-8259 on Cyber Monday for assistance.