Published on Thursday, December 20, 2018 by Steve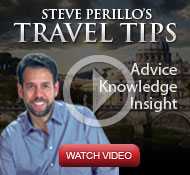 I'm Steve Perillo of Perillo Tours. I have a video series called Steve's Travel Tips to share all the insider Italy travel tips I have learned over a lifetime of travel to Italy.
In this video, I'd love to share my tips for New Year's Eve in Italy. The Italians have some very specific traditions to usher out the old year and bring in the new year! After you watch the video, visit us at Perillo Tours and ItalyVacations.com to start planning your trip to Italy for next New Year's Eve!
>