Published on Thursday, March 14, 2019 by Kathy McCabe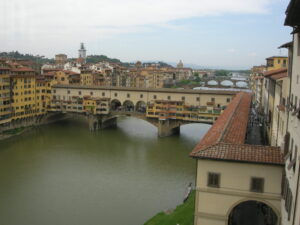 After being closed since 2016 for safety reasons, Florence's Vasari Corridor will reopen in 2021. The passageway will undergo an 18-month renovation costing 10 million euros. Commissioned by Cosimo I de' Medici in 1565 and built in 1585, the enclosed Vasari Corridor was a way for Florentine nobility to walk unbothered from their offices in the Uffizi Gallery and Palazzo Vecchio to their home in Palazzo Pitti in Florence.
The Vasari Corridor houses more than 700 self-portraits dating back to the 16th century. Those have now been removed from the corridor and will hang in a dedicated wing of the Gallery of Statues and Paintings in the Uffizi. In their place in the Vasari Corridor will be hundreds of Greek and Roman inscriptions that haven't been on display since the 1880s, memorials to the 1944 and 1993 bombings of the corridor, and 16th-century frescoes that Giorgio Vasari commissioned, and 30 ancient sculptures.
Visitors' path through the corridor will start on the Uffizi side at a new entrance and ticket office, and will end at Palazzo Pitti, where visitors can either enter the palace or continue to the Boboli Gardens. The corridor's 73 windows, which were blocked off to protect the self-portraits from harmful light, will be unsealed, giving guests a panoramic view of many of Florence's historic landmarks along the passageway, which crosses the Arno River on the Ponte Vecchio.
During the renovation, the corridor will receive air conditioning and heating, five new emergency exits, LED lighting, video surveillance, and refinished walls and floors.
Prior to its 2016 closing, the Vasari Corridor was only open to visitors at certain times. When it reopens, though, it will be open to the public from Tuesday through Sunday during the Uffizi's regular opening hours. Visitors will need to buy a ticket in advance to reserve their spot; tickets are expected to cost 20 to 45€ depending on seasonality and likely will not include admission to the Uffizi, Palazzo Pitti, or other museums. Up to 125 guests will be able to access the corridor at one time, with a capacity for 500,000 people per year.
By Kathy McCabe