Published on Thursday, July 4, 2019 by Kathy McCabe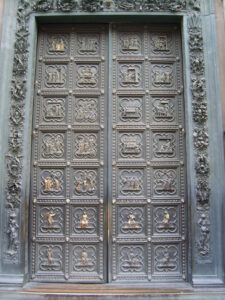 A replica of the south door of the Baptistery at Florence's Duomo was unveiled and blessed by Cardinal Giuseppe Betori on June 24, the feast day of John the Baptist, patron saint of Florence. For conservation purposes, the replica has replaced the 700-year-old original, which is currently undergoing restoration at the Opificio delle Pietre Dure in Florence.
The copy was made using the same techniques that sculptor and architect Andrea Pisano used when he made the south door in 1330. The new door is also the same exact dimensions as the original: 800 kilograms (1,763 pounds), 4 meters (13 feet) tall, 94 centimeters (3 feet) thick, and 2.94 meters (9.65 feet) wide.
In 1980, the bronze and gold Gates of Paradise by Lorenzo Ghiberti were replaced with copies, and the north door was replaced in 2013. Once the original south door is restored, it will be on view in the Opera del Duomo Museum with the other two Baptistery doors.
Two Florentine organizations contributed to the making of the copy of the south door: the Opera di Santa Maria del Fiore, the Duomo's governing body, paid for the replica, while the Galleria Frilli created it.
By Kathy McCabe