Published on Wednesday, July 10, 2019 by Kathy McCabe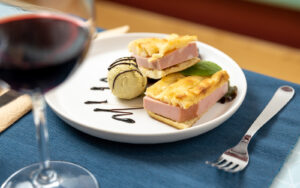 Geppy Sferra's new gelato-themed restaurant stands out from the 1,400 other gelaterias in Rome: It is the only one to serve a full dinner menu, with gelato incorporated into each dish. Gelateria d'Essai, in Rome's Centocelle neighborhood, employs chef Marco Mezzaroma to invent creative dishes and spin traditional favorites that include gelato.
"My goal is to converge gastronomy and gelato, presenting gelato in a way we never knew existed," says Sferra. "The gelato used on our restaurant menu is prepared no differently than traditional gelato; I'm just inviting people to consume it differently."
Entrées are split into three categories: vegetarian ("Gelato and the Garden"), seafood ("Gelato and the Sea"), and meat ("Gelato and the Farm"). The seasonal menu includes dishes such as chicken curry with coconut gelato; pizza bianca, mortadella, and pistachio gelato; and salmon gravlax with grapefruit gelato. Vegetarian main courses include zucchini noodles with toasted almonds and ricotta gelato; and potato salad, beans, and pesto with pine nut gelato. For dessert, there's—naturally—a selection of gelato flavors.
With these unusual combinations, Sferra says, "I hope to inspire fellow gelato artisans who also know how much potential gelato has to take more risks and perhaps follow a similar path."
The new gelato restaurant is open on Friday and Saturday for dinner.
By Kathy McCabe