Published on Thursday, September 5, 2019 by Kathy McCabe
Fashion house founders Domenico Dolce and Stefano Gabbana's luxury Italian villa is for sale.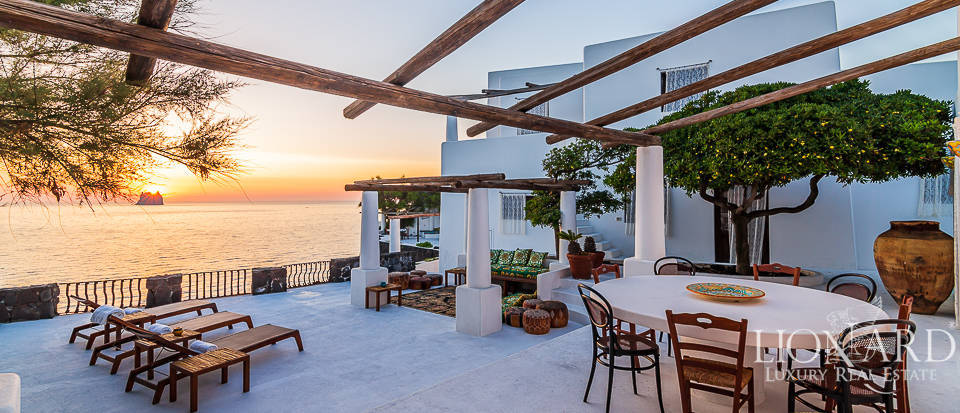 While the price is undisclosed, it is reported to cost €6 million. If you can't spare the change, you can live vicariously through the real estate listing's gorgeous photos.
The oceanfront villa is located on the tiny volcanic island of Stromboli, one of the seven Aeolian islands off the coast of Sicily. The designers have spent summers there since the 1990s, entertaining international celebrities. The seven-bedroom, nine-bathroom villa comprises three buildings with a mix of Aeolian architectural styles, and has panoramic ocean views and brilliant white walls typical of Aeolian buildings.
Each of the seven suites is outfitted in bright, bold Dolce & Gabbana style, including handmade tiles, lace curtains, unique furniture, and colorful patterns. Around the more than 5,000-square-foot property (about 2,500 square feet of which are indoors), gardens and terraces filled with native plants provide space to relax and take in the views. The estate also has direct coastal access, and the property can be reached by sea or air (a heliport is less than 1 kilometer from the house).
Dolce was born in Sicily, and both Dolce and Gabbana have used Sicily as an inspiration for their designs. Naturally, Stromboli has been the site of films and commercials, and rose to international fame with the filming of the 1949 movie Stromboli Terra di Dio (Stromboli Land of God), starring Ingrid Bergman. The volcanic nature of the island is present in everyday life: The volcano erupted just last year, and still glows with lava at night. Locals refer to Stromboli's volcano as iddu ("him" in the local dialect), and the river of fire and lava that results from an eruption is called sciara di fuoco. From Stromboli, the even smaller island of Stronbolicchio is visible.
By Kathy McCabe
Photo: Lionard Luxury Real Estate