Published on Monday, November 18, 2019 by Kathy McCabe
The latest discovery in Pompeii is a well-preserved fresco depicting two gladiators after a fight, painted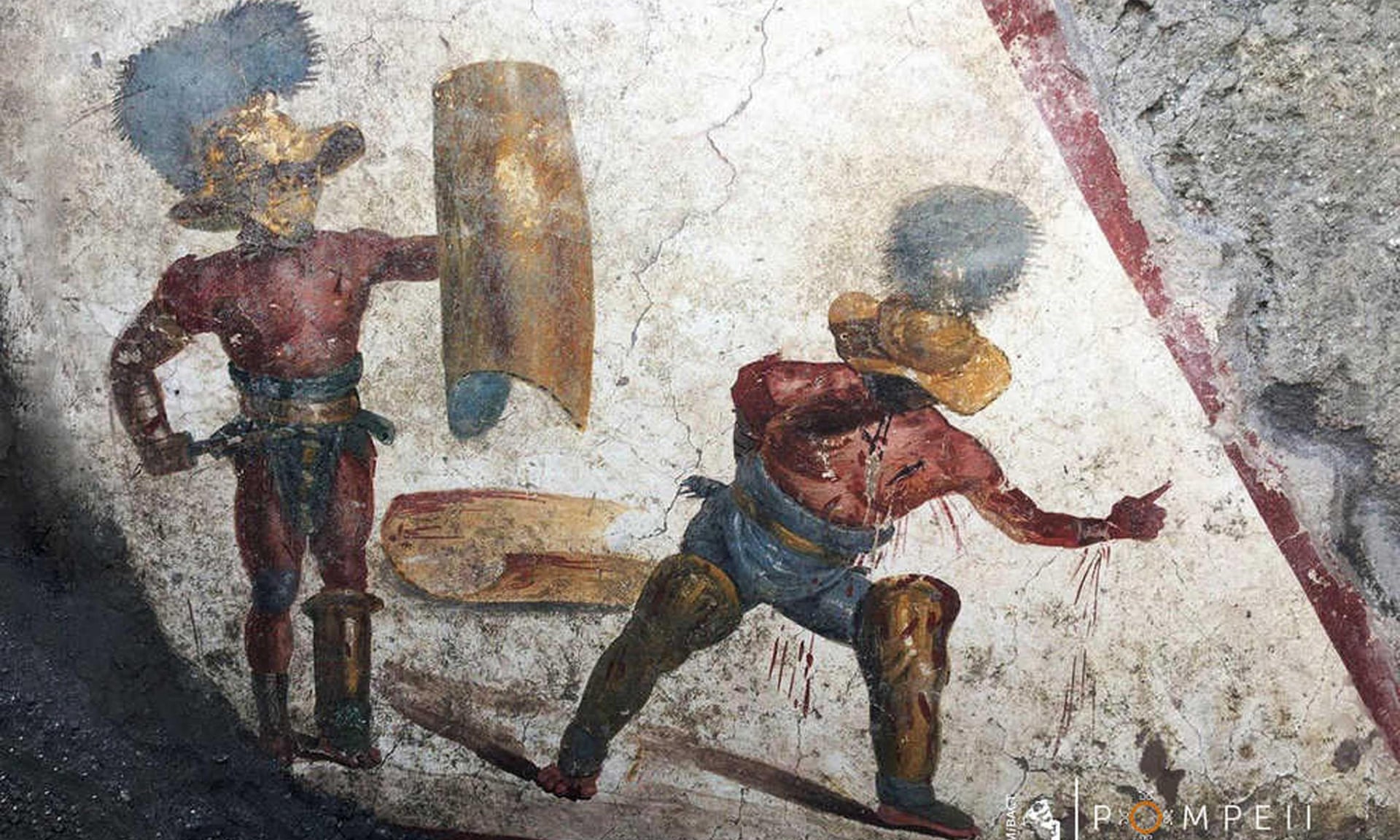 on the stairwell of a building. The scene depicts two gladiators of different types – a murmillo, who carries a larger shield, and a thraex, with a smaller shield. In the painting, the latter has lost the fight – and an arm – and holds his thumb up in request for mercy.
"Of particular interest in this fresco is the very realistic representation of wounds on the wrist and chest of the unsuccessful gladiator … we don't know the outcome of the fight, he could have died or was given grace," said Massimo Osanna, director general of the Pompeii archaeological park, in a statement.
Found in Regio V, a 54-acre section of Pompeii that is currently under excavation and not open to the public yet, the fresco measures 3 by 4.5 feet. This area is near where gladiators lived in barracks, and archaeologists believe the building it was found in was a tavern and a brothel frequented by gladiators. Other related graffiti has been found in Regio V, suggesting the neighborhood was popular with these combatants.
"It is an unprecedented discovery by Pompeii archaeologists who, for the first time since 79 AD, are excavating an area of Pompeii never investigated before," said Culture Minister Dario Franceschini.
Excavations in Regio V, a $140 million project that is funded by the EU and has been ongoing since 2012, have unearthed several other fascinating discoveries. A horse with saddle, graffiti, human skeletons and other frescoes – including one of a Roman "fast food" counter – have been catalogued there.
By Kathy McCabe
Photo: Italian Culture Ministry Handout/EPA